P. B. DIONISIO & CO., Inc. can help you process your firearm licenses and registrations as required by Philippine Law. We offer a simple 3-Step LTOPF Assistance (no firearm purchase required). Please call the Processing Department at 411-7444 or 373-3088 ext. 105, 106, 107 for details.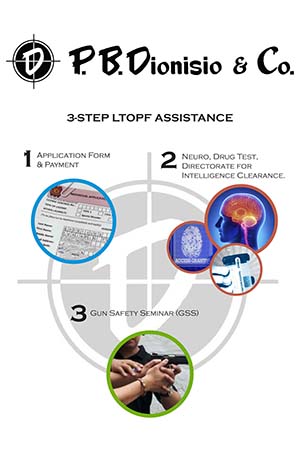 LTOPF Requirements as of June 15, 2015:
Step 1 – Application:
Two (2) Application Forms
NSO Birth Certificate/Passport or other documents showing Proof of Citizenship
One (1) Government Issued ID
Proof of Billing
Proof of Income
Step 2 – Clearances:
Clearances from any of the following: NBI, MTC/RTC or National Police
DI Clearance or City/Municipal Police Clearance
Neuro-Psychiatric Clearance from PNP Health Services or any Government Hospitals Accredited by the DOH.
Drug Test from PNP Crime Laboratory or any accredited drug testing center.
Step 3 – Safety Certification:
Gun Safety Seminar Certificate or equivalent document as validated by EEMD, FEO
PAYMENT: We collect the fees for all of the above from you and pay on your behalf so you only have to do it once and it's hassle free.
When you receive texts like these from the FEO, please forward to our Processing Department at 0928 504-1523.
IMPORTANT: Please include your name with your text so we can pay the fees on your behalf.