P. B. DIONISIO & CO., Inc.'s firing range was one of the first indoor firing ranges in the Philippines established in 1997.
It has 3 indoor ranges located at San Francisco Del Monte, Quezon City. The 12m and 15m ranges are equipped with automated target retrieval systems. The 25m range, touted to be the longest one in the Metro, accommodates IPSC-style shooting using classic target boards, steel poppers/plates, swingers, and barriers.
The company employs NROI certified range safety officers who are trained to assist customers with their needs and orient them about gun safety and proper gun handling.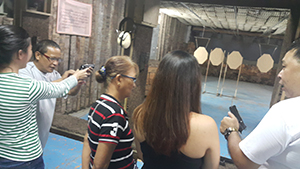 The range is located at:
No. 90 West Riverside St.
San Francisco Del Monte,
Quezon City, Metro Manila
Telephone number:
(632) 373-4545
Hours of operation:
Tuesday to Sunday – 11:00am to 6:30pm
Monday – Closed
Range Fees – Regular Members:
(Membership fee is P2,500.00 a year)
Range fee: P100.00
Ammo charge: P1.00 per bullet (when ammo is supplied by customer)
Range ammo: P8.00 per bullet (when ammo is supplied by the range)
Target board: P12.00 each
Gun rental: P300.00 for the first 50 rounds, additional P150.00 for every succeeding 50 rounds
Range Fees – Non-Member:
Range fee: P300.00
Ammo charge: P2.00 per bullet (when ammo is supplied by customer)
Range ammo: P9.00 per bullet (when ammo is supplied by the range)
Target board: P12.00 each
Gun rental: P500.00 for the first 50 rounds, additional P250.00 for every succeeding 50 rounds
Reviews: